Social media banners can make a great and lasting impression on your audience. A well-designed banner can inspire potential customers to click on your page so they can learn more about you and the services that you provide.
Think of it as the tip of the iceberg. In some ways, the banners represent brands. But once they click your page, they'll see the big picture. This includes social media posts, brand personality, and every other promotion you've launched on that page.
But this isn't limited to Facebook. All other social media websites like Twitter, Instagram, and even LinkedIn also have this feature. And like on Facebook, you can take advantage of this additional marketing feature as well.
Just take the photo below as an example:
It entices you to learn more about this absolutely beautiful floral arrangement and draws you in. At a glance, you already know about the product they're selling and from which brand to get it. And if you'd like to learn more, you'll most likely click on the picture for more information (like the website address and location) or go straight to the company account to read reviews or to message them.
Want to see more of our works? Our Instagram page has a lot more that you can check out!
If you don't have professional designers to do the magic for you, don't worry. It's easy to customize your own—even if you have no design experience.
Are you interested in making your social media banner ideas come to life? You can create your very own banner using our Watermarq app. It's free, and there's no download required! You can use it straight through your web browser on our site.
But before we get to the fun stuff of coming up with designs, let's make sure we have everything you need for this project:
What Do You Need Before Using Watermarq?
Just like a chef who's making their tastiest creation, you don't want to stop in the middle of your design process because you don't have one of the key ingredients. To up the chances of success of your social media banner as a branding tool, make sure that you have the following:
A Clear Purpose
What's your vision for the banner? Do you want it to have all the relevant details? Or are you just enticing visitors to browse your page? What your social media banner ends up looking like will largely depend on this.
Your design decisions, from fonts to photos, will in some ways be limited by your purpose. For example, you can use a busy background if you intend to put a lot of text.
The social media platform you're using the banner on will also matter. For example, the Facebook app blocks part of the banner with the profile picture. You'll want to design around that so the part of the banner that's supposed to stand out isn't blocked.
A High-Resolution Image
Yes, we all know how social media sites can mess up the quality of visual illustrations. That's why we advise that you have all the files (original and edited) saved in case you need to make further edits.
But there's no excuse for low-res images. Companies don't have to spend anything on amazing and beautiful photos. You can download stock images for commercial use—either for free or for a very low price. In your search for a good background for your design, keep these tips in mind:
Consider images with lots of negative space if you're adding lots of text.

The image should somehow include or work with branding colors.

It should in some way promote your business.
Of course, there is always an exception to the rules. If you think the style that you want to go for would work despite going against these guidelines, don't be afraid to try them out!
A Handwritten Signature
If you already have a handwritten signature logo design, great! If you haven't, take inspiration from the options available! This is just another of the many business branding assets that you can use it.
Apart from business cards and promotional items, we highly recommend using them for a social media banner if your customers highly associate your product or service with a personal brand. Or if in some ways, the business personifies the brand greatly, like with Burger King or McDonald's.
You can make create one in your own style and have it available in different formats. Most just stick with using the business name. And unless you have a compelling reason to deviate from this, we advise doing the same thing.
But if you want to have someone from our team design one for you, you can order your signature logo design here with just a few clicks.
How to Start Creating Your Social Media Banner
Creating your social media banner is as simple and fun as creating a character in a video game. Much like how you tweak their hair, eye color, and the shape of their nose to your liking, you can do the same for your banner and more! 
Step 1
The first step is to launch the app. Don't get confused; you don't have to deal with downloading .apk files or bulky apps to your computer and phone. The site has an inbuilt Watermarq app that you can launch and start fiddling around with!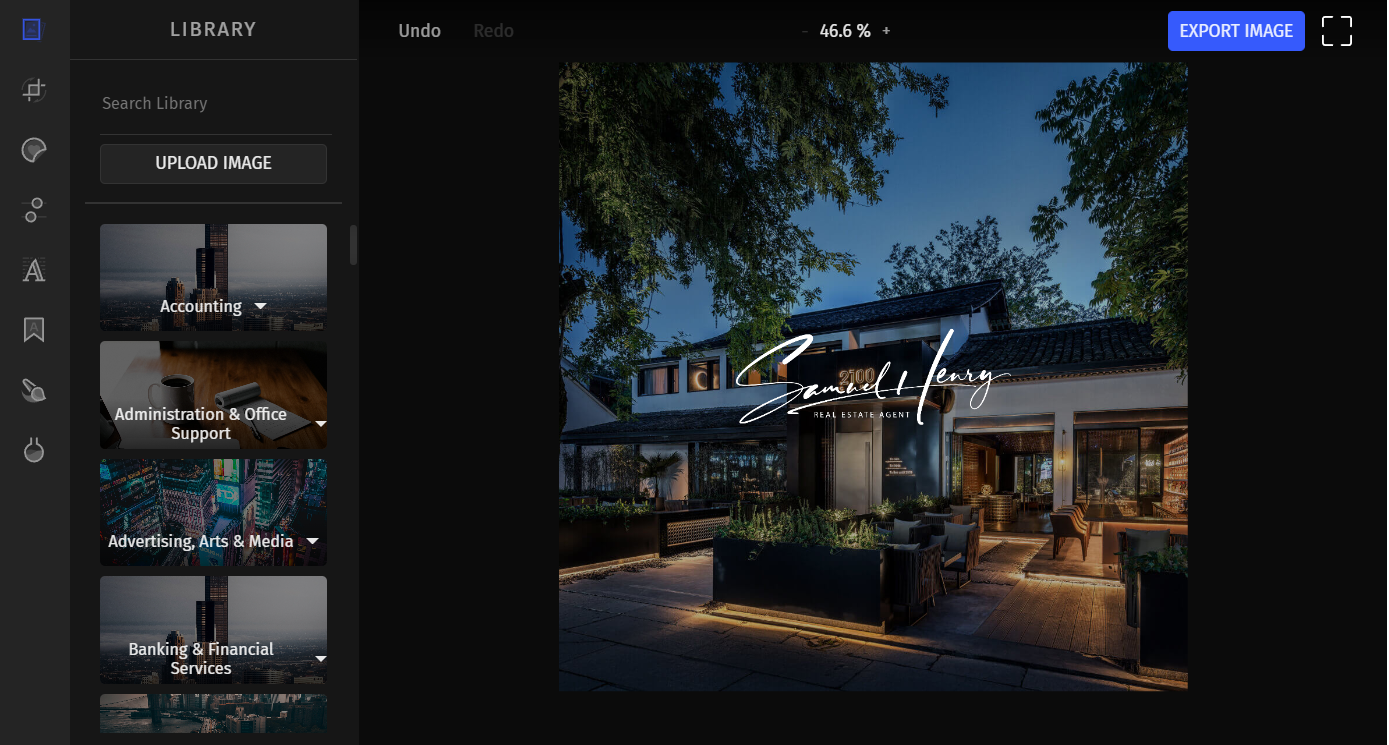 Step 2
The next step is to upload your image. Take a look at the image below. Click on the library button and upload your image—or use one from the existing image library. 
Step 3
It's now time to transform your image to match your vision. This step is for the edits you need to make to the image. There are multiple buttons that will assist you with this. 
Click on the crop button to get the dimensions you desire. You will find default options available, like 4:3 and 16:9 ratios. If those don't cut it, pun intended, you can customize the height and width of the image, too. 
With the adjust button, you can edit the image's details. Whether you want to make it brighter, add shadows, or simply blur out the edges, this is where you do it.
Apps don't just become the best willy-nilly; they do so because they have everything the customer needs. And this app has every customization option you could need! Click on the capital A to add text to your banner. Here, you can pick the text's font, size, alignment, and color, as well as the banner's line spacing.
Clicking on the button below allows you to design your text. If you're a DIY-er and prefer to design your logo your own way, use the text design feature and go wild!
The brush button allows you to draw and paint on the banner if you feel it's necessary. You can adjust your brush's size, hardness, and color.
And, finally, the last button gives you access to various filters to test out on your banner. So, what vibe are you going for?
Step 4
Last but not least, you will have to export your image. Use the export button in the upper right-hand corner of the app to download your banner. You can now upload your social media banner to any platform you'd like! 
Bonus
Signature logos created on Artlogo will be imported directly into the Watermarq app for permanent users. To access the image editor, you can also use the "edit" button for your order within the customer account. The logo should already be present.
How Else Can You Use the Watermarq App?
Even if you don't have a banner to create, the Watermarq photo editor can still be useful. You can use the exact process mentioned above to:
Claim Ownership of Image or Artwork
With the amount of artistic theft that's happening, get recognized for what you created. This will help you with improving brand recollection too.
A signature logo design on your image would help make sure that anyone can't just claim your work as theirs.
Create Visual Content on Social Media
Even for your regular posts, Watermarq can be a great help. By having an accompanying image on your post, you should be able to capture their attention.
We have pre-created dimensions for social media posts and stories too. With how easy it is to use our editor, the biggest job would be finding an image to use.
Add Engaging Visuals to Blog Posts
Especially for longer texts, you want to break the monotony with images. This is a great way to do so. You can use the image for quotes or show samples of your work, depending on the content.
We recommend trying this if you don't need a lot of text added. For example, it may be challenging to make an infographic here unless you already created the base design.
Make Your Social Banner Today!
Making a social banner is easy and straightforward, as long as you already have the assets for them. Have you tried using the Watermarq app to create yours? Show us your work in the comments section!