What is a signature maker?​
A signature maker, or online signature creator, is an online tool that allows you to draw online handwritten signature and save it to image format (PNG image with transparency). You can donwload it immediately and use your digital signature for signing PDF, Word documents, and add it to your email apps as an email signature.
Create your digital signature for online document signing
Simply use your mouse, mouse pad, digital pen, or touch screen to draw your signature on a computer, tablet, or mobile device. Try to create a bigger signature than you normally would. It will make the digital signature cleaner and clearer. You'll be able to resize it later to any desired size to fit documents, emails, social profiles, etc. Than download it as a PNG file with transparency using "Download Signature" button. If you decide to try professional calligraphy service use Artlogo and "Order My Artlogo" button.
Free Handwritten Signature Generator
So, I Can Just Type Out My Electronic Signature? That's right! Just type your name into our online signature handwritten generator, choose a pen color, and select the font that you feel best suits your personality and brand. Your electronic signature will then be ready to download and use. Our online handwritten signature generator can be accessed from your computer, tablet, or mobile device, so you can come up with your design on the go!
Signatures made by Artlogo, inspired by you and your business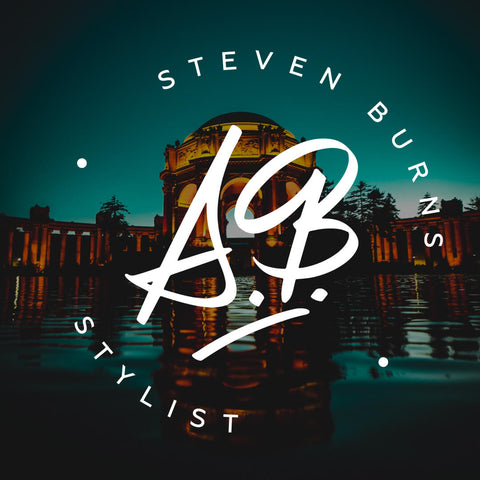 Create My Handwritten Signature
Signature inspirations
Check out signatures of famous people and get inspired to create your signature. If you want, Artlogo professional calligraphers and designers can help you with that. Our professional team has more than 10+ years of experience in creating unique handwritten signatures. We do it everyday for thousands of professionals as you. Additionally, we can provide materials that can teach you thow to make your new signature easily.
JK Rowling
Angela Merkel
Marie Curie
Prince William
Oprah Winfrey
Narendra Modi
Ronald Reagan
Albert Einstein
Abraham Lincoln
Serena Williams
Bill Clinton
How Artlogo makes your handwritten signature
When you submit your order with details and/or your signature examples, our teams of calligraphers, designers and brand consultants starts signature design work. Once the idea of your signature is ready, our top artists start creating it.
Every Artlogo Signature is 100% handwritten and unique.
Watch video
Your personality based on signature traits that we know
Your signature is much more than meets the eye. It's not only soving the functional tasks like dosuments signing or email signature. Signature analysis can tell a lot about you and your personality. Here we'll show the science of signature analytics, explaining how you can analyze someone's signature and/or use these hints for creating your new one.
Unreadable letters
Clever, mental agility
Easy to read
Transparent, honest
Clear first name, unreadable last name
Approachable
With underline
Proud, vain
Ends with a flick
Energetic, a go-getter
Upward angle
Ambitious, optimist
Downward angle
Cautious, pessimist
Slanted
Extroverted, friendly
Just a nickname
Self-confident
Initials only
Mysterious
Bold capitals
Arrogant
No last name
Relaxed, friendly
Large letters
Likes to be the center of attention
Embellished letters
Confident, bold
FAQs
Do you save my handwritten signature on your server?
To protect your privacy, Artlogo doesn't store any images or information about your signature. Only you will be able to access this data.
Can I use this signature-maker tool for legal documents?
Yes, you can use this online signature maker for legal documents. Whether you draw or type your signature out, you'll be able to download your signature as an image, which can then be used to sign documents electronically. This digital signature is legally binding in the same way handwritten signatures are.
How can I add my signature to sign documents online?
To add your electronic signature to any Word or PDF document, create your design using our online signature maker and download it as an image. Then, simply open the document you want to add your electronic signature to, upload the image from your computer, and position it in the appropriate place on the document.
What is the difference between a digital, electronic, or online signature?
Electronic signatures and online signatures are the same things: a signature that is used on electronic documents in place of a handwritten signature.
Digital signatures are a specific kind of electronic signature that includes encrypted data to verify a document's authenticity when you sign it. This is accomplished using private and public encryption keys.
How can I create a handwritten signature?
When it comes to creating a handwritten digital signature, there are several methods for you to choose from:
Using a Signature Maker or Signature Generator. This is the easiest option.
Using a digital pen to create your signature using Photoshop, Illustrator, or similar software. While you can design a high-quality signature in this way, this method is by far the most difficult.
Writing your signature on a piece of paper, then scanning and cropping it using this free tool. You can quickly create a signature this way, but it is the least effective method on this list.
Using Artlogo's Handwritten Signature Generator. With this easy-to-use tool, you simply type out your signature, then select your preferred font.
Hiring Artlogo's professional calligraphy signature logo design service. This is the best way of ensuring you have a high-quality, personalized signature that communicates your brand to the viewer.
What does my signature say about me?
Whether you create signatures using an online tool or whether you design them by hand, they probably reveal something about your personality. While you can't always make definitive judgments about an individual's personality based solely on their signature, you can certainly look at it for a few tips!
Some general observations you can make about someone based on their signature include:
Conscientious: If your signature is neat and easy to read, it's likely that you're a conscientious, detail-oriented person.
Reliable: If your signature remains consistent and unchanging over time, this probably indicates that you are a reliable and consistent sort of individual.
Bold: If your signature contains a lot of embellishments, this might show that you are a confident, even flamboyant person.

Messy signature could suggest either secrecy or confidence, while a fancy signature indicates confidence or playfulness.
What should I keep in mind when making a signature using a signature generator?
The first step in creating either a handwritten or electronic signature is deciding what you want your design to say about you—that is, what relevant information you would like your signature to convey about your personality and brand. Once you've picked a design, keep your signature consistent when signing important documents.
Keep in mind that a recognizable handwritten signature will make it easier for people to verify your identity. Electronic signatures are already very secure, meaning you can be a bit more creative with your design.
How can I add a handwritten signature to my email?
To add an electronic signature to your email footer, use our signature maker to create a beautiful, handwritten design and include it at the bottom of your email. This simple addition can really make your messages seem more authentic, lending them a personal touch that your recipient is bound to appreciate.
Another great tool for this purpose is EmailSign by Artlogo. With their handy tool, you can add an electronic signature to the bottom of your email with ease.
How should I sign my name?
It's fine to have an illegible signature, but, whatever you do, you must ensure your design is unique to you and easy to recreate. Whether it's your full name or an elaborate squiggle, you should be able to sign the same way time and time again.
If you've already come up with a signature you like, use our free signature generator to create a free electronic signature for use in digital documents.
Should signatures be written in cursive?
Signatures don't have to be cursive, but people often choose this style as a cursive script is far more difficult to forge than print. If you can think of another unique design you're confident others won't be able to copy, then, by all means, use it.
Is any one signature style better than others?
There is no one style of signature that is superior to others, but when designing your very own signature, you should make sure it is truly unique. Handwritten and electronic signature designs should both capture something of your personality in them.
How can I make sure my signature appears more stylish?
Adding a few embellishments to customize your signature can help it to look more classy and aesthetically pleasing—for example, loops, underlines, curlicues, and so on.
How can I make my signature more legible?
If you'd like to sign documents with a more legible signature, the answer is simply to write more slowly. Sometimes using a larger script can help as well.
How can I create a signature image?
If you have the capability to scan images, you can turn your handwritten signature into a signature image. You can then use this downloaded signature to sign digital documents.
Simply write your signature on a piece of plain, white paper and scan it, either with a scanner or a scanning app. Boosting brightness and contrast will help make the image more defined. Then, simply crop the image, and you're ready to sign documents online.
400+ Reviews on Trustpilot
Every person signs a large number of documents, send thousands of emails or active in social media during their lifetime. Artlogo's mission is to create your eye-catching signature that makes You and Your name unqiue and helps you stand out.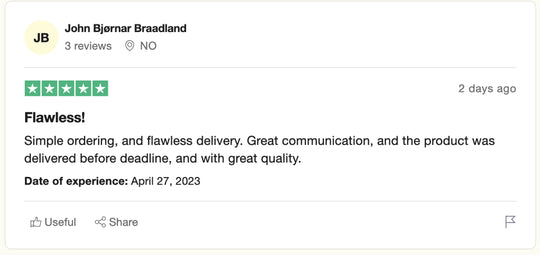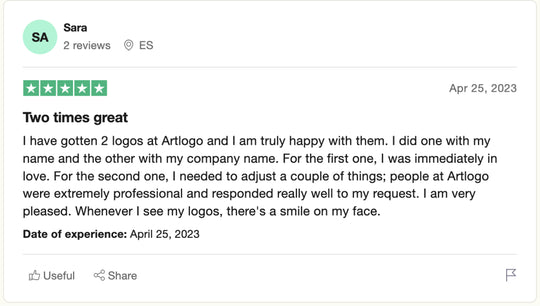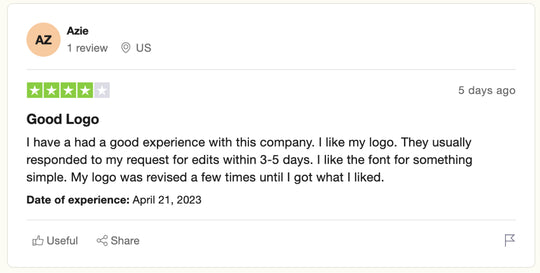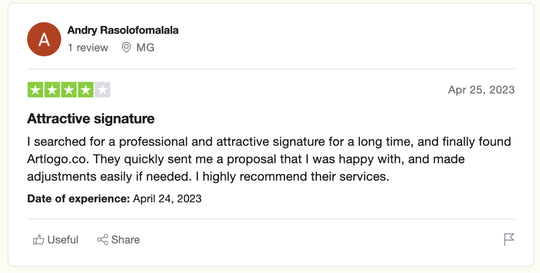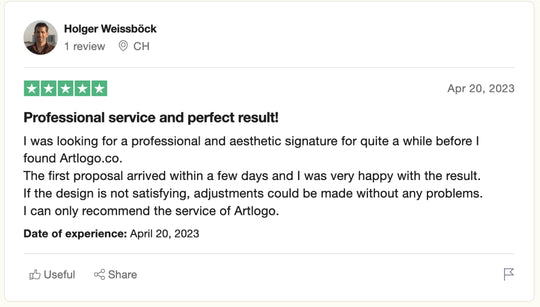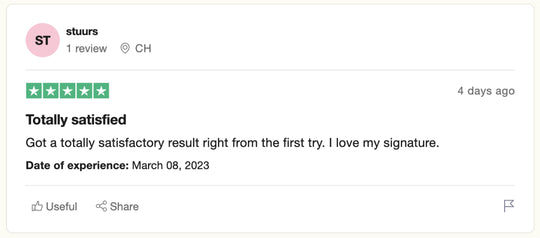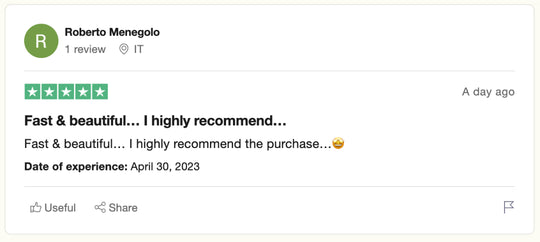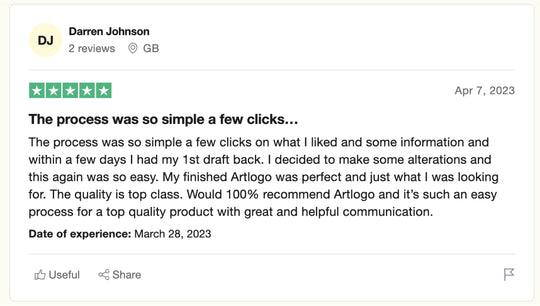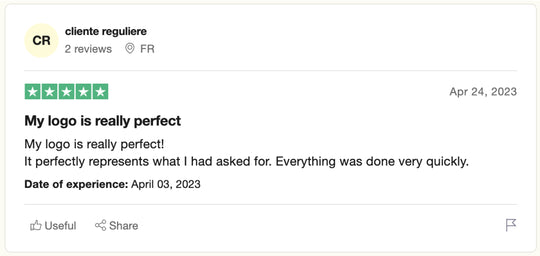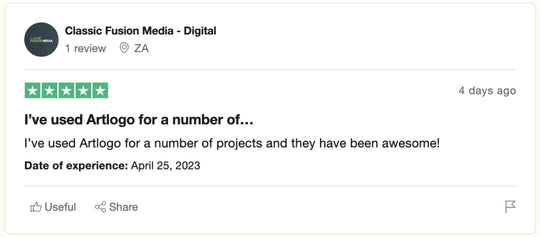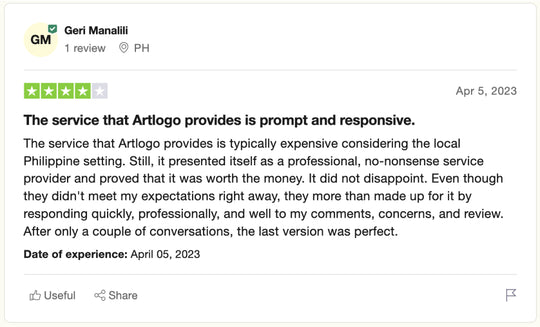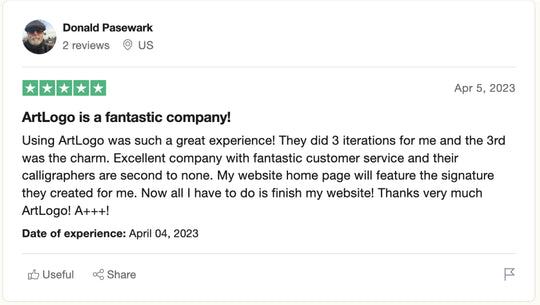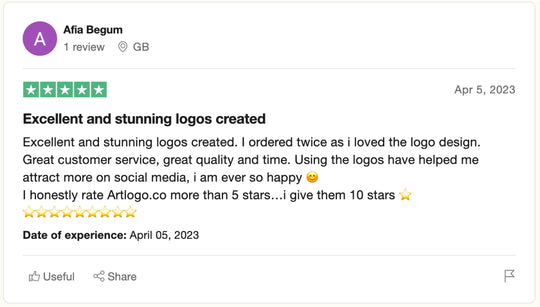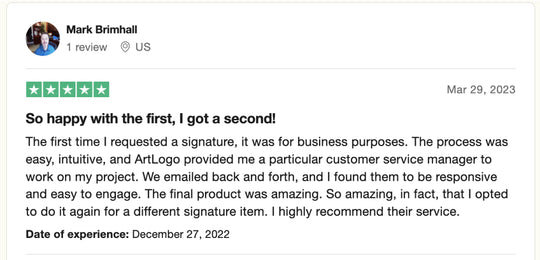 What do our clients say about Artlogo